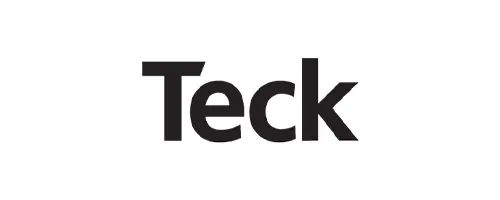 Senior Environmental Engineer
TECK
Posted 6 months ago
Job Description
Reporting to the Section Leader, Environmental Technology, the Senior Environmental Engineer is accountable for leading environmental technology development projects, providing expert technical consulting services to sites, and developing a healthy environmental technology project portfolio. The incumbent will be a competent technical leader and an internally recognized expert in environmental technology. The position will be based at Technical Services Trail (TST) in Trail, BC, with various domestic and international travel required by portfolio, project, and personal / personnel development needs.
Responsibilities:
Be a courageous safety leader, adhere to and sponsor safety and environmental rules and procedures. Establish and promote the maintenance and continual improvement of a safe, healthy, and environmentally-responsible working environment through a courageous personal commitment to TST's over-arching policies and Environmental, Health, and Safety (EHS) Management System and EHS policies and management systems at off-site locations. Act as a technical subject matter expert for environmental technology projects through the project life-cycle and optimizing and de-risking selected solutions. Lead techno-economic studies, including scoping or prefeasibility engineering activities, to evaluate and rank potential technology solutions. Lead environmental technology projects as a technical project manager and liaise with multiple groups to ensure project success. Provide consulting services to sites and project teams. Serving as a qualified person when required for regulatory reporting and providing support to internal governance practices. Build, maintain, and regularly access Teck's external networks to clarify issues and develop solutions to Teck's environmental challenges. Support the ongoing development of a healthy environmental technology project portfolio Provide input into developing high-level initial project/program plans and their management as part of the TST technology portfolio management process. Effectively communicate key messages and recommendations by authoring high-quality reports and delivering effective presentations to all company levels. Provide effective technical and professional mentoring to Teck staff involved in environmental and other activities. Qualifications:
Graduate degree, with a strong preference for a post-graduate degree in engineering or a related field relevant to environmental technologies. More than ten (10) years of relevant, progressive experience. Should have or be eligible for professional registration with the relevant organization. Broad knowledge of environmental challenges faced by a diversified multinational mining company. Working knowledge of the activities and business of mining and mineral processing is required. Experience in technology development, including experience in technoeconomic evaluation of technology solutions as well as change management. Experience in operations and/or capital projects execution is desirable. Demonstrated ability to lead and support highly-collaborative multi-disciplinary teams. Experienced with organizational dynamics, good conflict resolution skills, and the ability to mentor and coach individuals. Highly-motivated self-starter with the ability to work under minimal supervision with managing several priorities/projects simultaneously to meet firm deadlines. Ability to travel frequently and flexibility to successfully work in different sites and offices that Teck operates in. Strong written and verbal communication skills are required. In addition, the ability to work in Spanish is an asset. Successful candidates must be fully vaccinated against infection by COVID-19. Candidates who are unable to be vaccinated due to a personal characteristic protected under applicable human rights legislation may request to be exempt from this requirement. We will do our best to accommodate those who are unable to be vaccinated.
At Teck, we value diversity. Our teams work collaboratively and respect each person's unique perspective and contribution.
Qualified applicants interested in joining a dynamic team are encouraged to submit a resume and cover letter electronically.
We wish to thank all applicants for their interest and effort in applying for the position; however, only candidates selected for interviews will be contacted.
Your application to this posting is deemed to be your consent to the collection, use and necessary disclosure of personal information for the purposes of recruitment. Teck respects the privacy of all applicants and the confidentiality of personal information.
Teck is a diversified resource company committed to responsible mining and mineral development with major business units focused on copper, steelmaking coal, zinc and energy. Headquartered in Vancouver, Canada, its shares are listed on the Toronto Stock Exchange under the symbols TECK.A and TECK.B and the New York Stock Exchange under the symbol TECK.
The pursuit of sustainability guides Teck's approach to business. Teck is building partnerships and capacity to confront sustainability challenges within the regions in which it operates and at the global level. In 2020, Teck was named to the Dow Jones Sustainability World Index (DJSI) for the eleventh straight year, indicating that Teck's sustainability practices rank in the top 10 percent of the world's 2,500 largest public companies in the S&P Global Broad Market Index.
Learn more about Teck at www.teck.com or follow @TeckResources.
Contact Information