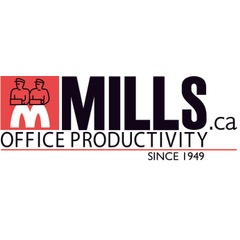 Operations Delivery Driver
Mills Printing & Stationery Co. Ltd
Posted a month ago
Job Description
Join our team at Mills Office Productivity!
Are you looking to join an amazing team? We are hiring a Full-Time Operations Delivery Driver/Warehouse Worker to work from our Trail Retail Store. Founded in 1949, Mills is a family owned and operated company with retail locations across BC. We are your local source for Furniture, Office Supplies, Printing and so much more. As a certified B Corporation, social responsibility is our core value and we achieve this by putting our employees, the communities that support us and the environment first. If you're as passionate as we are, we'd love to have you as part of our team!
This role is a hybrid from Delivery Driver, Furniture Installer, General Warehouse work and Sales. As the primary point of contact with clients you will assist our clients with ordering products and providing recommendations, coordinating with internal departments on the ordering of these products, and then ultimately delivering and installing these items to the client. Primarily this role will be focused on Delivery and Furniture instalments of all orders in Trail.
About the Job:
Customer service is our top priority. We pride ourselves on efficient, professional service delivered with a personal, local touch!

Delivery of Office furniture and supplies to various clients in Trail and surrounding areas, weighing 50lbs+

Coordinating inter-office transfers, shipments to customers

Providing catalogues to customers.

Acting as customer support while on deliveries i.e: answering customer inquiries regarding new products/ orders

Conduct periodic inventory checks and recounts

Organize inventory

Maintain a clean and safe work environment

Supporting Storefront from time to time

Employ and adhere to all WorkSafe recommended lifting and safety techniques

All other duties as may be assigned
About you (Must Haves):
Class 5 Driver's license - a drivers abstract will be required

Ability to carry 50lbs+; repeatedly throughout the day and carrying up and down stairs.
About you:
Excellent Customer service skills plus a passion for finding the right products for our customers

An attention to detail and a desire and dedication to learn about the products we carry

Ability to multitask, prioritise and manage time effectively

Strong team player as well as having the ability to work well autonomously

Positive and friendly attitude.

Ability to pivot and adapt to changes easily and is a continual learner
Additional:
Benefits:
Dental care
Disability insurance
Employee assistance program
Extended health care
Life insurance
Paid time off
RRSP match
Vision care
Schedule:
Day shift
Monday to Friday
Contact Information
Related programs and certificates
These programs and certificates may be relevant for you. Contact us to learn more!
View all