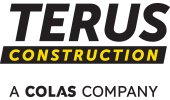 Construction Project Superintendent
Terus Construction Ltd.
Posted 12 days ago
Job Description
Overview Languages English
Education College, CEGEP or other non-university certificate or diploma from a program of 1 year to 2 years Experience 3 years to less than 5 years
Benefits Health benefits Dental plan Disability benefits Health care plan Paramedical services coverage Vision care benefits Long term benefits Group insurance benefits Life insurance Maternity and parental benefits Other benefits Pension plan Employment groups Help - This employer promotes equal employment opportunities for all job applicants, including those self-identifying as a member of these groups: Indigenous people, Newcomers to Canada, Veterans, Visible minorities
Who can apply to this job? Only apply to this job if:
You are a Canadian citizen or a permanent resident of Canada. You have a valid Canadian work permit. If you are not authorized to work in Canada, do not apply. The employer will not respond to your application.
Additional Info
Day, Evening, Night, Overtime, Early Morning, Morning
Contact Information