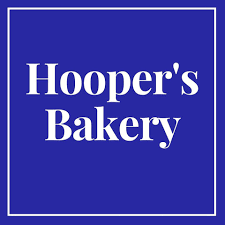 Baker - Hooper's Bakery
Hooper's Bakery
Posted a month ago
Job Description
Hooper's Bakery is hiring a full time baker. This is a key position in the bakery. As the main dough maker we rely on you to produce every dough and batter we use in the bakery. From cookie dough to all our sourdoughs and everything in between. You operate the industrial mixer and are responsible for maintaining a very clean work station.
In this position it is important to be self reliant while also being able to work in a team. You are meticulous and pay a lot of attention to detail. You need to be able to follow recipes and directions precisely, even when the kitchen gets busy and there is a lot going on around you.
During the days that we are open you roll all the baguettes for the day and work with the Pastry Chef in loading and unloading the bread oven and you assist the front of house by answering questions regarding our product, answering the phone, slicing bread, stocking the shelves when required, etc. When all the dough is made you may perform other food prep and various cleaning jobs.
Additional:
REQUIREMENTS
Available during the entire month of December and around holidays
Previous experience working in a kitchen, preferably a bakery
Good physical health – there is a lot of heavy lifting involved in this job
Self motivated and able to work independently
Detail oriented
Be able to start early in the morning
HOURS AND SHIFTS
Monday through Friday, start at 6:30 am, 8 hour shifts.
STARTING WAGE
$18/hr.
APPLICATIONS
For questions, call Ben after 1:00pm at 778-457-4008. To apply, please send your cover letter and resume to Ben and Rebecca at hoopers.application@gmail.com or come to the bakery during hours to drop them off.
Contact Information
Related programs and certificates
These programs and certificates may be relevant for you. Contact us to learn more!
View all