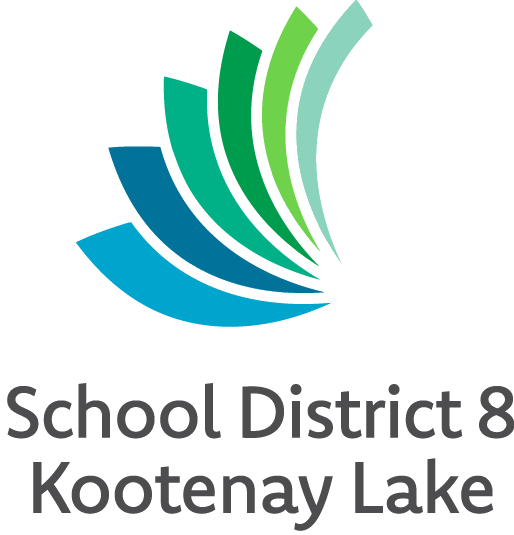 0.4 FTE Continuing Teacher Counsellor
School District No. 8
Posted a month ago
Job Description
School District 8 (Kootenay Lake) is nestled in the Southeast corner of British Columbia. We are a vibrant area, covering 6 "families of schools" in the centres of Creston, Crawford Bay, Kaslo/Meadow Creek, Nelson, Salmo, and the Slocan Valley. Our area is beautiful, vibrant, a fantastic place to raise children, has a world-renowned Arts and Entertainment community, and easily accesses a variety of amazing outdoor pursuits.
Our FOCUS.LEARN.EXCEL philosophy and our Board of Education's Learning Goals of: Literacy, Numeracy, Indigenization and Inclusion guide our practice with our students. We focus on excellence for all learners in a nurturing environment.
School District #8 (Kootenay Lake) has a vacancy for a 0.4 FTE Continuing Teacher Counsellor at Salmo Elementary School to join our team of professionals in delivering a quality educational program to our students.
Teacher Counsellor Position
The teaching assignment will include co-teaching and providing emotional and instructional support for at-risk students. This is not a clinical counselling role, but rather a teacher counsellor in a school setting.
The awarded applicant will have recent demonstrated successful experience working in a multi-graded environment; collaborating with school staff; and supporting at-risk students with learning, emotional or behaviour challenges. The applicant will be innovative, creative, and have a strong understanding of best practices, resources and instruction for elementary counselling support. They will demonstrate understanding of the BC Ed Plan, the First Peoples Principles of Learning, the district's Strategic Plan, the Ministry of Education and Childcare's Mental Health in Schools Strategy, the BC Manual of Policies, Procedures and Guidelines for Special Education Services, district directions and inclusion support strategies.
The successful applicant will be a person who is continually striving to improve pedagogy in a changing educational environment with a view towards contributing to school culture, and student success and achievement.
Required Abilities, Qualifications and Experience:
Master's degree, recognized by the Teacher Regulation Branch, in counselling psychology or Special Education. An advanced certificate in teacher counselling, counselling psychology, or special education may be considered At least 5 years' demonstrated successful teaching experience in a public K-12 school setting in BC, ideally in a similar role Knowledge of, and demonstrated application of the Ministry of Education's current philosophy, teaching practices, and evaluation/assessment/reporting procedures as outlined in the Manual of Policies, Procedures and Guidelines for Special Education Services, particularly as it relates to behavior and mental health support A clearly demonstrated understanding of the role of teacher counsellor in the public school context and within the parameters of the individual's educational background and training, including a clear understanding of and commitment to working within the guidelines set out by the district for teacher counsellors A clearly demonstrated understanding of the ethics of counselling in the school environment and to the extent of the individual's training and credentials Demonstrated ability to collect behavioural information and performing behavioural screening and/or assessments Knowledge of and demonstrated experience in the implementation and evaluation of IEPs in consultation with the classroom teacher(s), Inclusion Support teacher and district personnel Extensive academic training, professional preparation and qualifications in teaching at the level of this assignment Knowledge of, and demonstrated application of the Ministry of Education's current philosophy, teaching practices, and evaluation/assessment/reporting procedures as applied to all areas of this assignment Demonstrated ability to collaborate with the school-based team and Inclusion Support teacher to provide a continuum of services (consultation, coordination, education) that support the educational, personal, social, emotional and career development of students (BC Graduation Program) – dependent on educational background Demonstrated ability to collaboratively support the implementation of competency-based IEPs for students in Ministry Categories R and H, and to provide consultation services for other Ministry categories
Demonstrated ability to access & coordinate school, district and community services/resources, including Interagency Care Teams
Willingness to support colleagues to implement proactive, research-based teaching practices that support social emotional learning and mental health literacy in the classroom (for example, Trauma-Focussed Schools and Open Parachute) Demonstrated knowledge of and experience with Trauma Informed practices, conflict resolution and restorative practices Demonstrated ability to implement protocols and procedures related to threat and risk assessment (VTRA, Community Suicide Intervention Protocol, Reporting Child Abuse & Neglect, School Crisis Management Team) Demonstrated ability to provide direct instruction to students (peer helping, conflict resolution, social skills, life skills) and to support colleagues to meet the social-emotional needs of students Demonstrated ability to support transitions to into and out of the school (ie – elementary to middle; middle to secondary) Demonstrated ability to teach/co-teach in a flexible, multi-graded learning environment, including teaching whole class and small groups in areas such as resilience, regulation, social emotional learning, and so on Demonstrated understanding of the BC Ministry of Education and Child Care's Mental Health in Schools Strategy Demonstrated understanding of, and commitment to implementing the First Peoples Principles of Learning Demonstrated excellent classroom management, the ability to establish and maintain positive, compassionate, respectful and collaborative relationships with colleagues, students, parents/guardians, and community partners within an inclusive, diverse and equitable school environment Teachers applying for this position must also possess the following attributes:
Willingness to work closely with parents, school based teams and community partners Knowledge of current instructional practices and curriculum Strong interpersonal, communication and collaboration skills Strength in developing trusting relationships with students Knowledge of Trauma informed theory and practices A demonstrated ability to work with colleagues to build support for and with staff and students Excellent organizational skills and a demonstrated ability to be flexible, encouraging and engaging Strong written and verbal communication skills Strong ability to use technology to support student learning
For more information please contact Principal Dawn Snell at dawn.snell@sd8.bc.ca
School District 8 supports equity hiring for Indigenous applicants.
*If you are experiencing any technical issues with your application process to contact Make A Future's customer service line as HR cannot upload or assist with these types of issues. We also cannot accept documents via email such as cover letters/resumes/transcripts/teaching reports via email as they do need to be part of the employee's Make a Future profile.
Additional Info
Job Category Teachers, Principals & Superintendents
City Salmo
School/Location Salmo Elementary
Employment Start Date September 01, 2023
Mandatory Document Resume Cover Letter Teaching Qualifications/Licenses Certificates & Diplomas Teaching Evaluations Transcripts
Additional Notes 0.4 FTE Continuing Teacher Counsellor
Contact Information
Related programs and certificates
These programs and certificates may be relevant for you. Contact us to learn more!
View all